How to Check the Status of Your Interlibrary Loan Requests

Your Interlibrary Loan account gives you the opportunity to check the status of your ILL requests. The Interlibrary Loan staff only contacts patrons unless there is an issue or a question regarding a request, so this is the easiest way to determine what is happening with your ILL request.
1. Log into your Interlibrary Loan account.

2. Click on the tab View Your Requests.

3. In the Filter By menu, you will see a variety of choices that pertain to the status of your requests.
Waiting to be Processed means that the Interlibrary Loan staff has not viewed your request yet.

Your Active Requests: these are requests that have been submitted and/or have already been shipped by another library.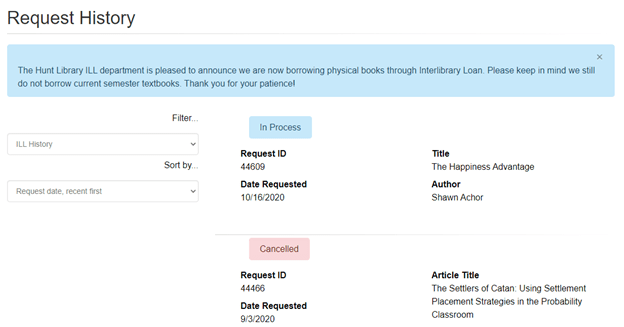 If you have any questions about your request and its status, please email the ILL staff at ILL@erau.edu. Please keep in mind that Interlibrary Loan office is open Monday through Friday, 8:00 a.m. to 5:00 p.m.