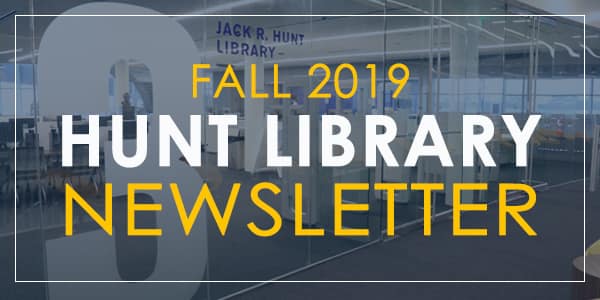 Welcome from the Library Director
Hello and I hope you are having a great fall semester! The library marked our first anniversary in the Student Union on October 1, and we are excited to see the number of students who seem to have discovered their home away from home in the new library space. From group pods to quiet space, students find the right environment for their studies.
Library services are continually expanding. Over the summer, we welcomed new staff members after several of our long-term colleagues retired. Two new librarians are dedicated to supporting our growth in priority areas – information literacy instruction and textbook affordability initiatives. This fall, we are migrating to a new, state-of-the-art library system, which promises to make researching our collections even easier and more effective.
We hope that you visit the library in person or virtually as often as you can this semester. Our priorities are to support student success and faculty teaching and research. Please contact me with any comments or concerns, or contact Ask a Librarian for help navigating the Hunt Library.
Regards,
Anne Marie Casey, AMLS, PhD
Hunt Library Director
New Librarians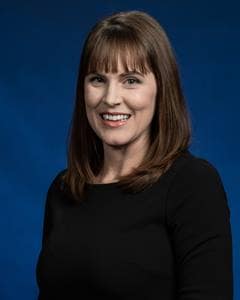 Brittany Rhea Deputy joins the Hunt Library to facilitate innovations in library instruction and contribute to Ask a Librarian services as the new Assistant Director for Research/Worldwide Library Services. Brittany will serve as the library liaison to the UNIV 101 program and to the Department of Physical Sciences. She holds an MA in Library and Information Science from the University of South Florida and a BS in Public Relations from the University of Florida. Before arriving at Embry-Riddle Aeronautical University, she held the position of sole librarian for the Moody College of Communication at the University of Texas at Austin, working with 200 faculty members and over 5,000 students. Her other previous employers include the University of Alabama, The University of South Florida – Health, and the University of Florida. A native Floridian, she is excited to be back in her home state and a part of the ERAU family.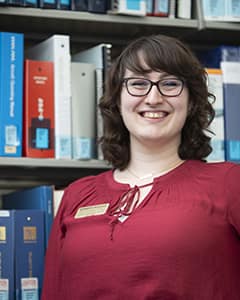 Cassandra Konz is our new Scholarly Communication Librarian and will be focusing on textbook affordability and open educational resources. She is available to help find affordable textbook options, support the adoption or creation of open educational resources, or answer questions about open licenses. She moved from Minnesota to Florida three years ago to attend graduate school at Florida State University. She now lives with her husband and their dog, and spends her spare time cooking, reading, and playing games of all kinds. As a recent graduate, Cassandra is intimately familiar with the struggles of being a modern college student and is passionate about supporting student success and open knowledge at ERAU.
New Access Services Technicians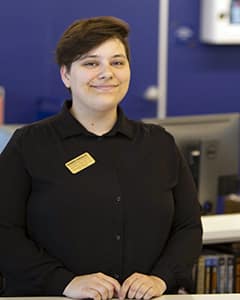 Sophie Frechette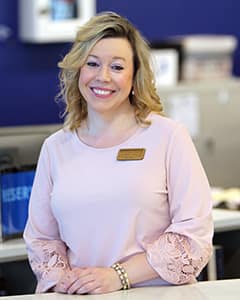 Lauren Herzog
New Neighbor
Digital Studio now occupies Room 431, across from the Ask Desk. Their hours are Monday through Thursday noon – 9:00 p.m.; Friday and Sunday noon – 5:00 p.m. (closed Saturday). Click here for more information about the digital studio.
Highlight of Services
EagleSearch upgrade coming January 2020!
After over twenty years of using the Voyager integrated library system for providing access to the library print collections, the Hunt Library is upgrading to Alma, a library systems platform that manages both electronic and print materials efficiently. Researchers will continue to access all our materials through EagleSearch, but will find a better experience due to real-time availability within the results lists, combined-format records, easy access to course reserves, convenient journal search capabilities, and a more visually pleasing full-record display. For detailed information, please see EagleSearch: New Features.
Scholarly Commons
ERAU's institutional repository has achieved 1,942,589 downloads at the time of this writing! It's interesting to note that some of the top institutions that download from our repository include the military, the FAA, NASA, and Boeing.
Affordable Textbook Initiatives
Hunt Library is committed to supporting student success through our Open and Affordable Textbook Initiative. We help faculty find, use, and create open educational resources (OER) or library alternatives to reduce the cost of textbooks for students. Since this initiative began in spring 2019, we have saved students over $22,000! Open resources are also flexible and adaptable for more freedom and creativity in the classroom. If you are interested in how we can help reduce textbook costs for your class, contact us at commons@erau.edu.
Interlibrary Loan (ILL) delivery
Hunt Library delivers interlibrary loans! During the Spring and Summer semesters of 2019, ILL delivered almost 150 books to Faculty across the campus. If you want your ILL books delivered, all we need is your building/office location and the name of your department's Administrative Assistant. If you are not in your office at the time we deliver, we will leave your ILL book with the Administrative Assistant. You may include delivery information in your interlibrary loan request notes or reply to your ILL notification email.
Hot Off the Presses!
Just a small sampling of our new, unlimited access, 2019 copyright eBook titles:
New Help Resources
Primary and Secondary Sources – A brief video to help understand the difference. Great for anyone new to or returning to academia.
Citation Chaining – A brief video that now includes SCOPUS. Great for Capstone students working on a large literature review.
Faculty Toolkit for Publishing – A guide that includes a detailed checklist, explanations of types of metrics and how to check them, and research data management.
SAGE Research Methods – An introductory guide to the SAGE Research Methods Database, which is focused on help in designing a research project. Great for Research Methods students.
Hunt Library Video Tour
Share the experience of visiting the Hunt Library with your friends and family back home! Or if you are a "frequent flier" of our virtual services, you may be curious to see what it would look like to pull a book off the shelf. Take a peek at our video collaboration with Digital Studio!
Library Events
Hunt Library Book Club
What can we say, Eagles? We love to fly AND we love to read. Basically, we're just a bunch of normal people who chose to read the book Normal People by Sally Rooney. We are discussing this book both online and in person on Tuesday, November 19 from noon – 1:00 p.m. in SU 435, which is at the top of the library's internal staircase. For more information, see: huntlibrary.erau.edu/book-club.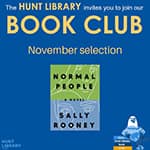 Cram with Cookies!
Mark your calendars to end your semester with our popular, semi-annual study day event that includes free pizza, coffee, donuts, and other treats on Friday, December 6, from 6:00 p.m. to 8:00 p.m. on the 4th floor of the library. On this evening, the library instruction room will be open for quiet study from 5:00 p.m. to 10:00 p.m.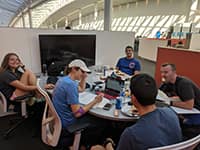 Jack R. Hunt Library
huntlibrary.erau.edu
library@erau.edu